I have had many people ask me what equipment I use or recommend, so here you go.
(Full disclosure:  I get a small kickback if you purchase from the links below.)
Large Aluminum Crawfish Pot
What I Use:
I use an 80 qt Bayou Classic.  It works great and I usually make 20 to 25 lb batches with it.  It comes in aluminum or stainless steel.


Bayou Classic80-Quart Aluminum Stockpot at Amazon.com
*Update*
I upgraded my equipment this year.  I now run a two pot setup.  My new pot is  100 Quarts and Stainless Steel.  I love it!  It's super easy to clean, and just looks nicer.  After some use, the aluminum ones look old and dirty.  It also allows me to cook a full sack of crawfish (35 to 40 lbs) with ease.
Check it out: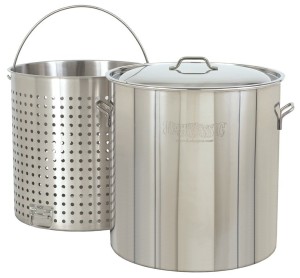 Bayou Classic 1102 102-Qt. Stainless Steel Stockpot with Boil Basket
Other Recommendations:
60 Quart Pot – 
A 60 quart pot will work just fine.  I used a 60 quart pot for many years.  They are great because you can cook faster with them if you use a high-pressure burner.  (See below.)
Bayou Classic 60-Quart Aluminum Stockpot at Amazon.com
Turkey Frier – 
If you want to do smaller batches, you can get the turkey frier pot/burner combos.  I have never personally used these so I can't recommend any, but Bayou Classic has some that I am sure are fine.
Outdoor Burner for Crawfish Pot
The burner is probably the most important piece of equipment you need.  If it fails to perform you are really in a bind.  My advice is to not skimp here.  Get a good one, especially if you are using a pot that is 80 qt or larger.  Burners come rated by the BTU or the PSI.  More is better. For pots 80 qt or larger, go for 20+ PSI and 125k+ BTU.  If you have a 60 qt or smaller setup, you can get away with 10 PSI or less than 100k BTU, but I would go for the bigger one if you have the money.
What I Use:
I use a Bayou Classic High Pressure Burner.  If you have the means go with high pressure because it can heat your pot up much faster, saving you lots of time. This thing is amazing!

Bayou Classic High Pressure Banjo Cooker at Amazon.com
*Update*
I now run a two pot system, one with the KAB6 shown above and the other with the Bayou Classic SP2.  The SP2 puts out some serious heat and is a little cheaper at $60.  It's not as heavy so time will tell how well it's built, but I am satisfied so far.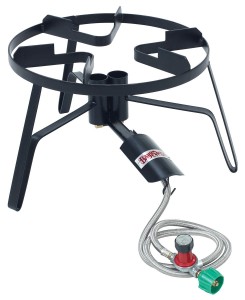 Bayou Classic SP2 at Amazon.com
Other Recommendations:
I have used all of these at some point in time.
Low Pressure 10 PSI 3-legged burner: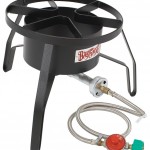 Bayou Classic Outdoor Gas Cooker at Amazon.com
Pros:  Good for uneven surfaces like a lawn or gravel area, although I wouldn't go too uneven for safety reasons.
Cons:  Not enough power for larger pots (80qt+)
Low Pressure 4 Legged Burner: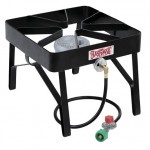 Pros:  A little more stable than the 3-legged burner on flat surfaces like a driveway, cement, etc.
Cons: Don't recommend for pots 80 qt or larger, but it will work.
Bayou Classic Single Burner at Amazon.com
Crawfish Pot Stir Paddle
You need a good long paddle to stir up the pot.
What I Use:
I use a Bayou Classic Wooden Paddle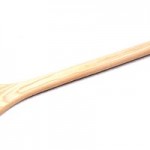 Bayou Classic Cajun Stir Paddle at Amazon.com
Conclusion
Having the right equipment makes life a lot easier.  Make sure you clean it all up and store in a nice dry space.  The burners tend to rust a little if not kept in a really dry spot.  Over time this can affect performance.  Good luck and have fun!