My Recipe for Juicy and Spicy Boiled Crawfish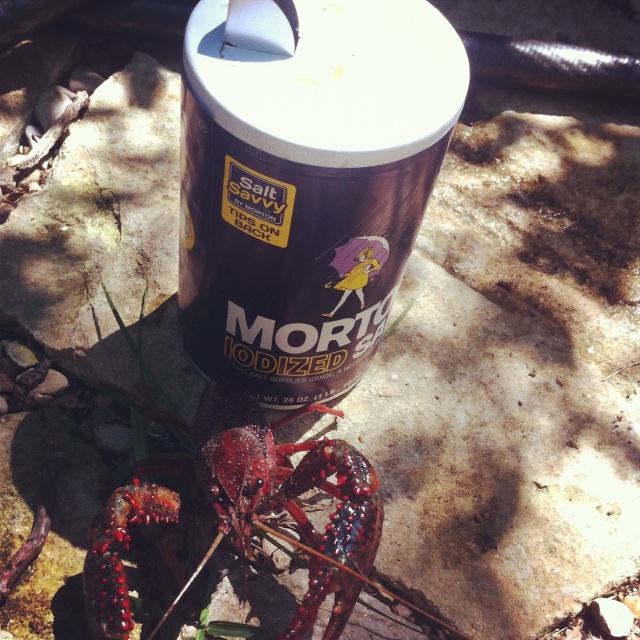 Every backyard chef has his or her own unique method for cooking crawfish.  This page describes my personal technique, which has been refined from years of trial and error.  My issue with many recipes is that they make the crawfish spicy on the outside, not the inside.  The recipes do this by adding more spices on top of the crawfish after they are cooked.  This is what you'll find at many restaurants.  In my opinion, this is WRONG!  Crawfish should be spicy in your mouth, not on your lips.  The technique below will give you really juicy crawfish that don't burn your lips but are really hot in your mouth.
Let's get started!!
WARNING: Using this recipe, each batch of crawfish will take at least an hour to cook.  This is more time than some alternative recipes, so be sure to account for that when you're planning.  If you are serving a lot of crawfish you will need a really large pot or multiple pots.  
Ingredients:
Aluminum pot with an inner straining basket.  I typically use 60 to 80 quart pots.
Propane burner with propane tank.  A higher BTU burner will heat your water faster and decrease cook time, although any regular propane burner will do.
Large cooler.
Cajun crawfish seasoning.  The brands I use are Zatarain's or Louisiana Fish Fry Products, and it's usually called "crawfish, shrimp and crab" seasoning.  I like 1.5 lbs of seasoning per 10 lbs of crawfish, but less is ok if you like your crawfish milder.
Live crawfish. (Obviously.)
Lemons.  I use 2 per 10 lbs of crawfish.
Ice.  I use about 10 lbs of ice per 20 lbs of crawfish.
Paper towels and trash bags.
Sides.  These are all optional, but I think a good batch of crawfish always includes some delicious sides.  At the very least, throw in some corn and potatoes.

Frozen corn
Red potatoes
Mushrooms
Onions
Sausage
Garlic
Artichoke
Brussel Sprouts
Boiled Crawfish Recipe – Summary Version
Cut up all your side ingredients.
Purge the crawfish.  Wash them with salt (about 1/3 can) and a little water.
 Fill your pot 1/3 to 1/2 full of water and turn on the full fire.
Add your cajun seasoning to the water and squeeze 4 lemons in the water.  I use 5 lbs of spices for a 60 qt pot or 6.5 lbs of spices for an 80 qt pot.
Add all sides except corn to the pot basket and put the basket in the water.
When the water starts to boil remove the basket and add crawfish ON TOP of the sides.  This means that the sides will go back in the water with the crawfish.
Put the pot basket in the water.
STEP 8 AND 9 TOGETHER SHOULD NOT EXCEED 8 MINUTES.  Wait for water to boil or (if water hasn't boiled) about 4 minutes.  If you have a high water to crawfish ratio, the water will boil in less time.
When you see first signs of boiling (or, if water hasn't boiled, if 4 minutes have passed), start your timer for 4 minutes.
When the timer goes off, dump 1.5 bags of ice into the pot, along with the frozen corn, and stir.
Let the mixture soak for 15 minutes, and then start testing for spiciness.  When you've reached your desired spice level, serve!  I typically let my crawfish soak for about 30 minutes.
If you have more crawfish to boil, remove any excess water from the pot to bring it back to your starting level.
Add more cajun seasoning.  If your last batch was too spicy, go for .5 to 1 lb additional seasoning.  If it was just right, add 1.5 lbs.  If you need more spice, add 2 to 2.5 lbs.
Start back at step 5 until you're all done!
Boiled Crawfish Recipe – Detailed Version
Step 1: Prepare the Ingredients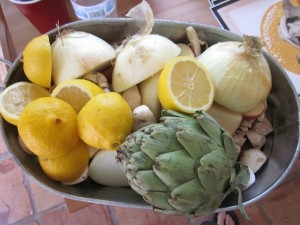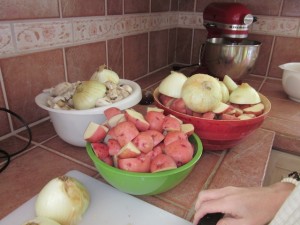 I like to get all the ingredients ready before doing anything.  Cut all the onions, lemons, mushrooms and potatoes in half.  Cut the sausage into bite-size pieces.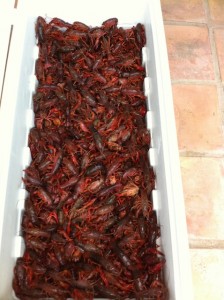 Next, clean the crawfish.  Sprinkle a bunch of salt on the crawfish, cover them with water and let them soak until you're ready to cook them.  I generally drain the water after a bit and wash them with the hose again, just to get them real clean.
Step 2:  Start Heating the Water
Note: If you are using aluminum equipment for the first time, boil water for 30 minutes, dump it out and then start from step 1.  This cleans the aluminum and creates an oxygen barrier.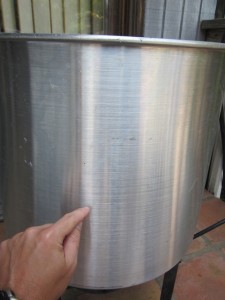 I fill my pot about 1/2 full.  It depends on how many crawfish you want to boil at one time, but just make sure the water will cover all the crawfish (and sides) when you put them in later.  Also, add some extra water to account for boil off.  When you have your water ready and on the burner, turn on the burner to full strength.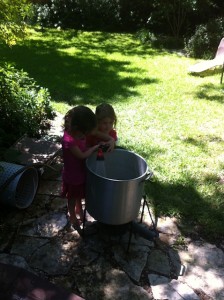 Step 3: Add Seasoning to Water
As the water starts to get warm, mix in your seasoning.  It's going to seem like a lot of seasoning for your first batch.  I put 5 lbs of spices in my 60 qt pot that is half-filled with water.  If you are using an 80 qt pot, go for 6 or 6.5 lbs.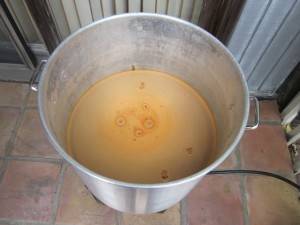 Step 4: Add Sides
Once the spices have been mixed in, squeeze your lemons into the pot and toss them in the basket.  Fill your basket with all the sides except the corn.  The water should not be boiling yet, just warm.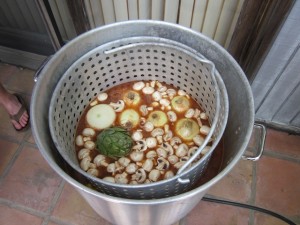 Step 5: Boil the Sides
Let the sides sit in the water until the water boils.  (The propane should still be on full strength.)  When the water starts boiling, take out the basket.  Now the fun begins!
Step 6: Add Crawfish to the Basket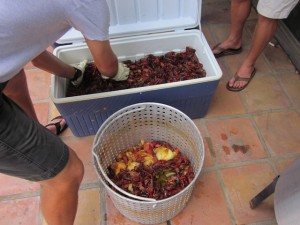 Add crawfish until the basket is about 3/4 full.
IMPORTANT:  Add the crawfish on TOP of the sides in the basket.  Do NOT remove your sides from the basket. (Other recipes err on this point.)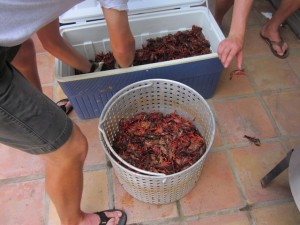 Step 7: Add Crawfish Basket to the Pot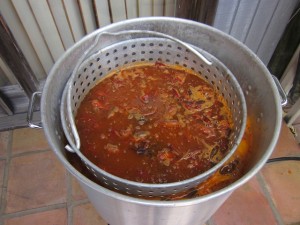 Step 8: Boil the Crawfish
IMPORTANT: Steps 8A and 8B should together take no more than 8 minutes.
Step 8A – Bring the water back to a boil.  Adding the crawfish to the pot will cause the water to cool, so we want to bring it back to a boil as fast as possible.  This means that your burner should be on full strength.  With my high pressure burner and 60 qt pot, it takes about 4 minutes to get the water back to a boil.  With a smaller boiler, it can take longer.  If you've added your crawfish and your water isn't boiling after 4 minutes, proceed to step 8B.
Step 8B – When you see the water boiling (or if the crawfish have been in the water for 4 minutes), start a new 4 minute timer.  When the 4 minutes are up, SHUT OFF THE FIRE!  Leave the pot sitting on the burner.  Note: If you have a large pot, the crawfish may have only been in the water for 5 minutes at this point.  Resist the temptation to overcook them.  Once your 4 minute timer has gone off, shut off the heat.
 Step 9: Shock 'Em
(I learned this technique from a real Cajun, so you know it's good.)  After you shut off the burner, dump 1.5 bags of ice on the crawfish, and add the corn.  Mix throughly.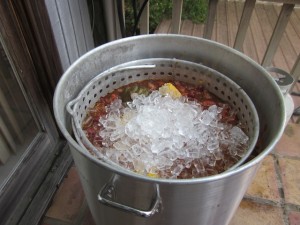 You might ask why we're adding ice to a boiling pot.  The answer is that we don't want to overcook the crawfish, but we do want them to soak in the delicious marinade we've created.  The ice brings the temperature down, so the bugs stop cooking but can continue to soak up all the good spices.
Step 10: Soak'Em
Now this is where you get to decide how spicy you want your crawfish.  I would let them soak 15 minutes, then every few minutes test one out to see if it is spicy enough.  Just let them keep soaking until you like the flavor.  I usually let mine soak for 30 to 40 minutes.
Step 11: Serve the Crawfish!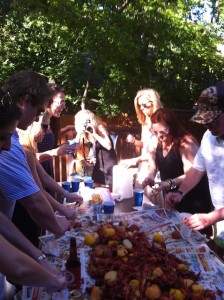 That's it!  Enjoy the fruits of your labor!
(Optional) Step 12: Prepare the Next Batch
If you have more crawfish, well lucky you!  Let's cook them.  Your pot now has too much water after all the ice we've dumped in, so take a pitcher or cup and get rid of a little bit of excess water.  Bring the level to where it was at the start of the first batch.
Next, add more spices!  How much?  Well, here is a scale to use for the 60 qt pot.  I add 1.5 pounds if my first batch was spot on.  I add more if they were not spicy enough (2 to 2.5 lbs) and less if they were too spicy (.5 to 1 lbs).
You are good to go!  Start from step 4 above and repeat until you are out of crawfish!!
Appendix A: Where To Buy Crawfish Online
Unfortunately, I don't live in Louisiana anymore, so I have plenty of experience obtaining crawfish in other states.  Here are some places I have used.  You can generally save more money by doing freight delivery to the airport.  I have had success with this, but it was a pain so I just pay the extra money for the door-to-door service.
Pros:
These guys are great!  They are my favorite.  Customer service is excellent!  They send them VERY well packaged via FedEx or freight.  If you call they will usually give you $10 off if you ask.
Cons:
They are generally a little more expensive than others.
Pros:
Crawfish were a good size and of good quality.  Items arrived on time.  Cheaper than others.
Cons:
The packaging was not great.  They just used sacks in cardboard boxes, although it wasn't a huge issue.
Buy Locally Via a Seafood Market
I live in Austin now, and I can get crawfish whenever they are in season.  I go to Fiesta Mart, which usually has best prices in town.  Go Friday at 11am, which is when they get them in stock.  (I'd call ahead to confirm though).  I've also bought crawfish from Randall's on occasion.  If crawfish aren't a fixture at your grocery store, ask a local seafood market if they will order them for you.  It might be cheaper than the options above.  I was able to do this in D.C. and in Austin.
Found out about these guys this year. Haven't used them yet but I know someone that did with good results.
Pros:
Good prices! Will deliver to you home the day of you boil!
Cons:
Only available in Austin
Another Austin Option.  I haven't used them, but I have me them and they are really nice.  I think they will cater cooked crawfish if you don't want to mess with anything.
Appendix B: What Equipment to Use
Check out our recommendations page: Crawfish Boil Recommended Equipment
Hope you enjoy!!!